A PROMISE FROM ME TO YOU:

To always be honest with you! I take this very seriously! I have NOTHING to gain by being dishonest, but everything to LOSE! I will be there for you while you are waiting for your puppy, to answer any questions you may have at anytime by phone or email. To remain available to you after you receive your puppy and throughout its entire life. I want the very best homes for my puppies and it is my PLEASURE, and my JOB as a breeder to help you every step of the way!! Don't ever forget that; and don't ever think you are bothering me! It is not possible to bother me with Cavaliers. :)
Puppies will have been dewormed, a full exam will be done by a licensed Veterinarian, and up to date on vaccinations for the age of the puppy.

You will receive all health records, vaccinations that were given, when they are due again, brochures, and puppy training manuals.
You will receive a 2 year health guarantee. (See Contract for details).
All puppies are AKC registrable and sold on Limited registration. Meaning spay/neuter contract, limited showing.
Gift bag full of goodies for your new little one.
A photo album full of your baby as he or she was growing. You are welcome, and encouraged, to come and visit your little one while waiting for the day you can take your puppy home. If it is not possible for you to visit don't worry. I am camera happy and will email you pictures on a weekly basis while you are awaiting the arrival of your new baby. Trust me, I know how hard waiting for your baby is, I promise to make it fun and exciting for you while your puppy is growing! :)
Introduction to potty training.
Of course your new little one will come to you pre-spoiled, well socialized, tail wagging, and loved dearly!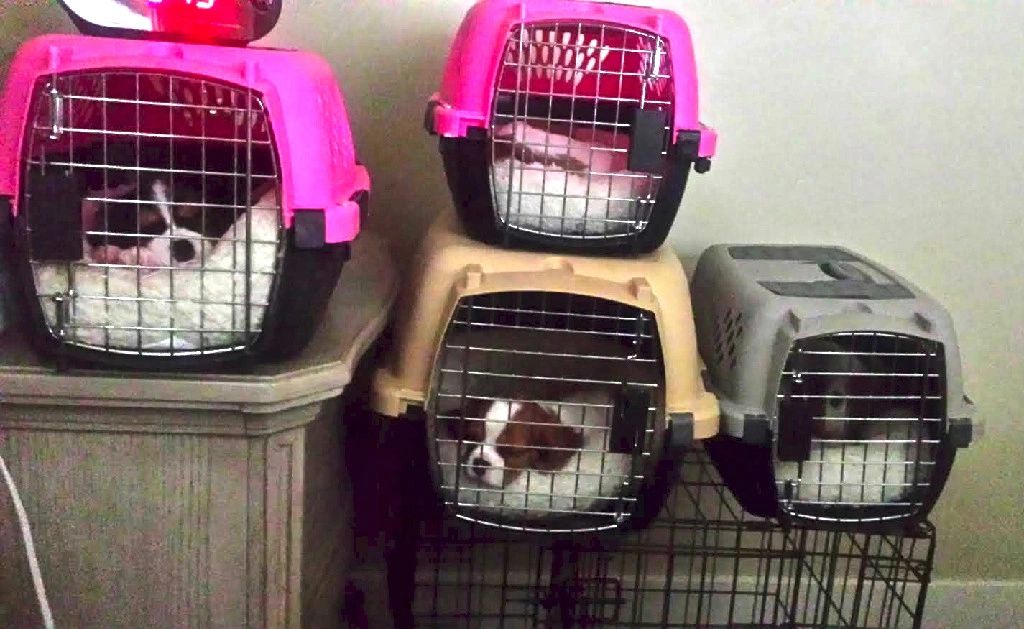 This is what I get to see when I roll over. :)

Introduction to crate training, at 6 weeks I begin introducing the crate. I put the crate in their play area without the door, letting them go in and out of it at their leisure. Once the puppies reach close to 8 weeks I begin taking them up in my room to let them sleep in a crate at night. The reason I do this is to help the sleeping process when you bring your puppy home. It is important to me that you get a good nice rest. Believe me, I remember those long nights of crying! I want to prevent that as much as possible for you. You will be very busy training during the daytime and need a good nights rest. It is also easier on the puppies if they start this process with me, they know me and trust me. It makes coming to your home a much more pleasant experience for both you and puppy!
Things you may want to get for your new arrival...
A puppy crate, this is good for crate training your new little one as their bladders have not fully developed. It also provides a safe place for them when you are unable to keep your eye on them. I like to start them out in a crate similar to the one in the picture above, it feels safe to them.
Plenty of chew toys!
A nice comfortable bed
A food and water dish that is not too wide as their ears like to fall inside the dish while eating and get messy.
"Natures Miracle", is great for cleaning up accidents in the house.
Gentle shampoo and conditioner. As well as a brush and comb.
A collar with a identification tag, leash and harness for walking. Micro chip is recommended for permanent identificaton.
From our heart to yours. :)