Breanna and Tyler with "Fenway and Dixie"

My husband and I met our first Cavalier King Charles Spaniel, Jax, in the summer of 2013. My husband's brother got Jax from Brenda for his family and we instantly fell in love with the breed. After months of looking at Brenda's website and contemplating getting a puppy (because of Tyler's asthma and allergies), I contacted her. I couldn't wait any longer... We had to have a Cavalier!
We soon met Brenda, her beautiful family, and her Cavalier girls. Because Jax was from Tenley's first litter, we knew we wanted one of her puppies. Tenley was soon pregnant and Brenda always kept us informed of how she was doing. We were so excited when we got the news that the puppies were born! Our sweet Fenway was born April 1st, 2014. We instantly fell in love! Brenda and her family opened up their home to us to visit him every week until we could take him home. From that moment on, he has done everything with us. He was our first baby. I strongly believe that the love we shared for Fenway (especially that first year) strengthened the love we shared for each other... and Fenway was there when Tyler proposed to me on May 20th, 2015 in front of our family and closest friends!
Although wedding planning was in full swing, we often discussed getting another Cavalier. It's like they say, "Cavaliers are like potato chips... You can't have just one!" We got in touch with Brenda and expressed that we wanted to add a little girl to our family. Months later, on the night of my birthday May 21st, 2016, I got the call that our little Dixie girl was born! It was meant to be. Not only was she born on my birthday, but she was the only girl with three brothers in her litter (I grew up as the only girl with five brothers!). Just as we did with Fenway, we visited her every week. When she got old enough, Fenway got to meet and visit her too!
While Dixie was still too young to come home, Tyler and I got married on June 25th, 2016. Fenway walked down the aisle with a GoPro on his back that recorded the ceremony and reception. Brenda and her family attended our wedding and in the video you can see the love that she and her family still have for him. They are truly an amazing, caring, and loving family and we were so glad they could join us for our special day.
We brought Dixie home the day we got back from our honeymoon. Fenway had to adjust to not being an only child anymore, but they soon became best friends. They still do everything with us... They are under the sheets sleeping, hiking, traveling, dog-friendly restaurant patio sitting, gym-loving dogs. You name it, they most likely do it with us. They are both smart, athletic, and sweet. They love everyone and everyone they meet loves them. I never hesitate to educate people of the love that Cavaliers share and of Brenda who was gracious enough to share that love with us. We are so blessed for the relationship we have with Brenda and her family. I know she will always be there for us and our Cavaliers.
-The Knight Family
(Breanna, Tyler, Fenway, and Dixie)
"Nancy and McGee"
In the winter of 2015-2016 I was a recent widow and my home had become just too quiet. I met Brenda in the spring of 2016 after an extensive search on various breeds. I decided a Cavalier King Charles would be the perfect fit for me. I found Brenda who is a local breeder and checked her out with my vet first. Of course, I knew I was on the right track as she was highly recommended by my trusted vet, where she also works! Upon our first meeting, Brenda welcomed me into her home where I met her beautiful and friendly dogs. My puppy was born in May. Brenda sent pictures and updates often. When the puppies opened their eyes I was able to visit in person each week. It was a very exciting experience; and, I immediately fell in love. The weekly visits allowed me to spend time getting to know my baby while learning more about Cavaliers. I also met Brenda's wonderful family many times. Her puppies are given the very best love and care. They are healthy and happy thanks to Brenda's expertise and positive reinforcement training.

I brought McGee (Bobby McGee) home in a few short weeks and it has been one of the best decisions I ever made. He follows me everywhere still and makes me laugh each day at his antics. He is a total joy and the very best companion. Our winter this year has been unusually cold and snowy but we are snugs as bugs in a rug. All of my family, neighbors, and total strangers cannot believe how happy he is to meet and greet everyone. He is very smart and understands everything I say. He is also learning to dance now when I turn on a special song he likes. He rarely barks. He loves to go with me in the car. He is a good sleeper and often I have to wake him up in the morning to start our day when I find him snuggled down under my covers fast asleep.
Brenda is a beautiful woman inside and out. She excels in the care she gives her babies. Brenda has stayed in touch with me and is available for questions anytime. I sincerely recommend a meet and greet with Brenda to get to know her and hear about her Cavaliers. I would be happy to visit with someone on the phone if they would like to chat with a very satisfied Cavalier mom.
Nancy Johnson
2017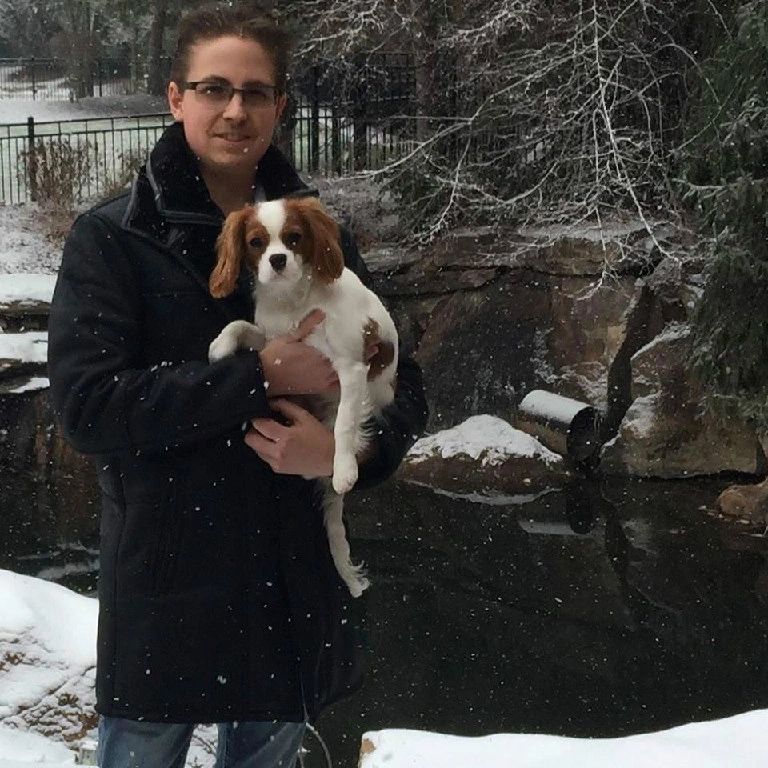 "Trevor and Auzzie"
"I was able to go in person to Brenda's house and visit her pups. From the second I walked in the door it was apparent how caring Brenda was. She is very nice and knowledgeable about her puppies. She provides them with a very clean, safe environment to grow up in. Brenda encourages you to stay in touch with her for the life of your pup. She likes to hear how puppies in her previous litters are doing and is happy to answer any questions you have about your dog. I am very glad I found Brenda, she has exceeded my expectations as a breeder and I would highly recommend her and her pups to anyone!"



Decateur and Carol with Aspen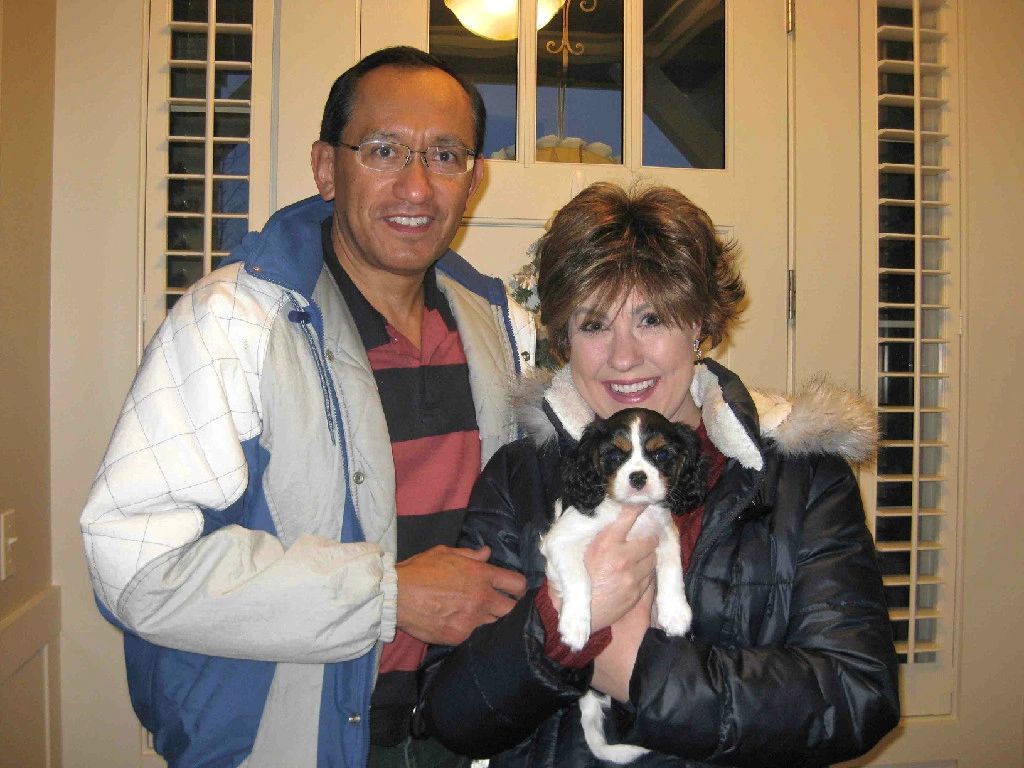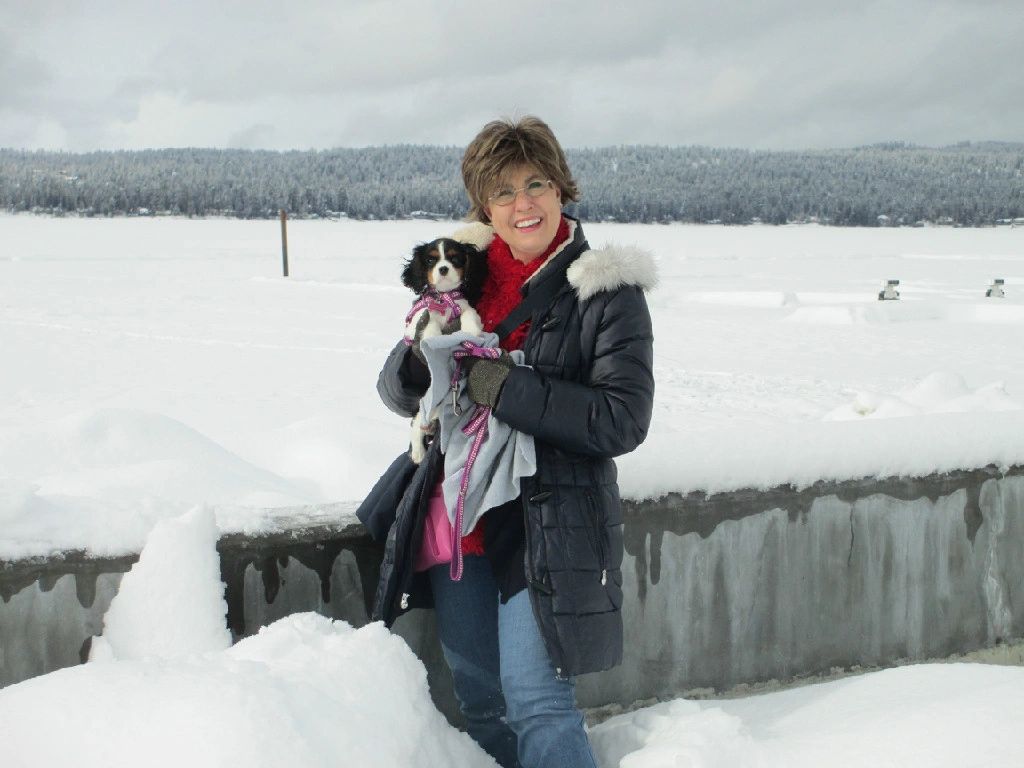 Brenda,

We are writing this letter as a token of appreciation for your exemplary service. When we were shopping for a breeder, your name kept coming up in our conversations with others in the trade. You were consistently spoken of positively and as a reputable, reliable, and caring breeder. We met with other breeders, but chose you based on your knowledge, methodology in breeding, and the thorough way you guided us through this process. Through every step in this process, you patiently explained the breeding process, development of the puppy, and impressed upon us how important our role was. You entertained our many questions and guided us through this process like the expert you are. Your instructions prepared us for the efforts required in getting a puppy and gave us a realistic view of what to expect. Even after the "deal was done" and we picked up the puppy, you continued to invite our questions and give us advice.
Now that we have our puppy and she is comfortable as part of our family, we wanted to express our gratitude for your excellent work. There is no substitute for expertise and professionalism when making such a significant purchase. We are completely satisfied with your services. Please feel free to consider our letter as a strong recommendation to anyone who is considering your services as a breeder.
Thank you,

Decateur & Carol Reed 2/7/16

"
Nancy and Ryde
r"
At the time w
e
started a search for a Cavalier puppy I was not yet mobile after foot surgery. Our search was done by Internet and that is how we were lucky enough to find Brenda and her wonderful family of Cavaliers. Since we are snow birds it was important to us that the pup we adopt be well adjusted and is comfortable with new situations and locations. Brenda is hands on with her dogs and as it turned out there was absolutely no transition issues when we brought Ryder into our home. He slept through the night from day one. I have complete trust in Brenda and her knowledge and care she uses with her dogs. Brenda has been there for us with any follow up questions we have had. We are completely head over hills in love with out Ryder.
Nancy Hull 1/11/16





"Cady, Frank, & Babydog"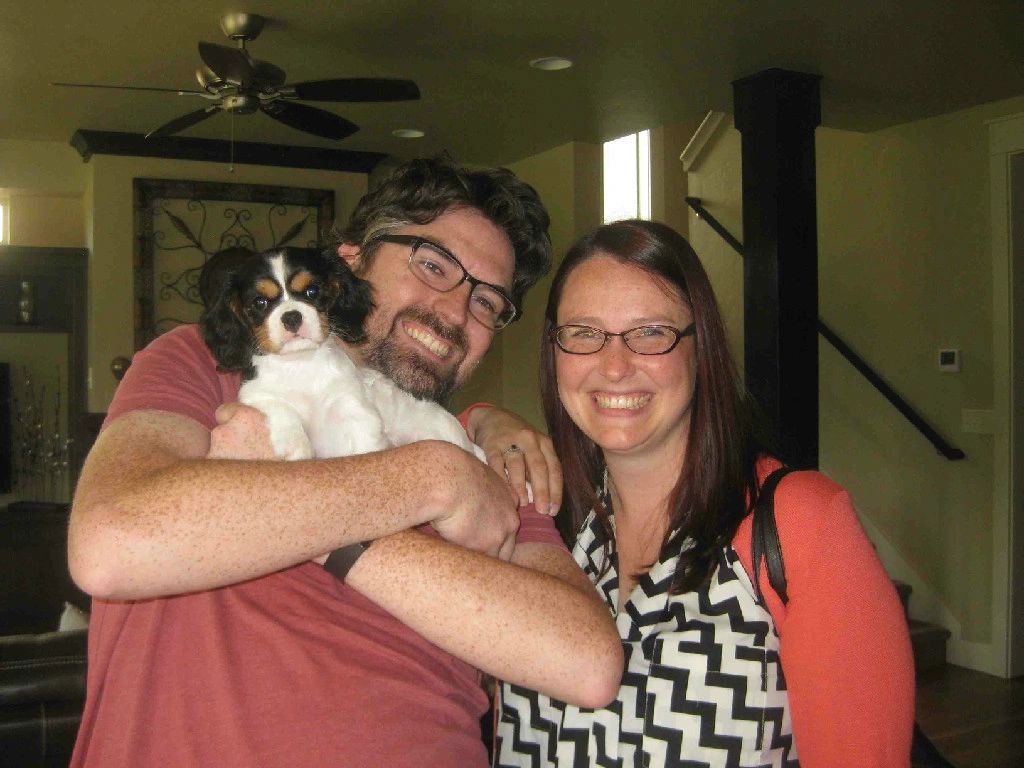 "Bre
nda made ado
pting a puppy a wonderful experience. She was great at communicating with us to let us know how mom and babies were doing, and provided plenty of visiting opportunities so we could be 100% confident that our puppy was coming from a loving, quality environment and getting plenty of socialization. She also makes quality choices to breed for health and personality. Not only is our little girl super adorable, but she's a sweet little lovebug as well!"
Cady McGovern 1/10/16






"Enzo" and family
"My family had the good fortune to happen upon Brenda's website last winter. We were impressed with her knowledge of the breed and her interest in breeding responsibly. We had been a bit concerned regarding hereditary problems in Cavaliers, but then realized that most breeds have their struggles. My background is working with veterinary specialists, ophthalmologists, dentists, behaviorists, and I can say that Brenda really 'knows her stuff'. We felt good that she took our concerns about having her dogs eye and heart checked, the fact that she is a veterinary technician doesn't hurt either. She truly does not want to propagate known disease in these animals nor match an animal with the wrong owner. After she allowed us to select her, we awaited a puppy. We were fortunate enough to receive our little tri-colored pup, Enzo. He has been amazingly true to his breed. Sweet, affectionate, easy going, simple to train, and playful. I love how he can hang out in the office with me and my staff during the day and doesn't disturb much, even as a puppy. When he came home at 10 weeks he was already crate trained and didn't make a peep! We adore this little guy and are enjoying learning what it is like to have a dog in our lives again. Thank you Brenda for all your hard work and investment you put into these little fellas. It has truly paid off!"
12/18/13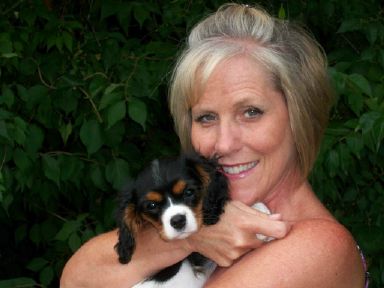 Connie and "Lucy"
Simply put, Brenda is a fantastic breeder as well as a wonderful friend for many years. I first met Brenda when
she visited me to see my dogs. I knew at that moment, we would be lifetime friends. We have shared many
breedings and learned from one another along the way. She takes every precaution throughout the breeding process.
Her dogs live as family members and enjoy the love and care we wish for every dog. She is available after you take
the puppy home to answer any question or concern you might have. She also enjoys pictures as your baby grows.
I had a family crisis a few years ago that took me back to my home of Indiana.
My girls and I packed up our suitcases and doggie bowls and down the road we went...
I missed my calling in life, as a breeder, and just so happens that Brenda was having a litter. I decided this was it.
Now I am anxiously waiting on the birth of my puppy. I never knew how exciting this could be! What a
wonderful breeder my friend Brenda had turned out to be!! She sent me daily/weekly updates on Ellie, the mommy.
As soon as the babies were born, she sent me pictures. There were 2 girls in this litter and I knew which one I wanted.
I received weekly photos on Sundays. It was like being there as her eyes opened... as she grew. Brenda kept in
contact with me so closely through the next 10 weeks. I decided to get on a plane and pick up my puppy so that I
could visit with my friend Brenda. There are no words to describe what I felt when I stepped off that plane
and seen my little "Lucy"! She came to the airport to see her new mommy. This little puppy was absolutely adorable.
Brenda had already worked with this litter on kennel training, using potty pads, learning their name, the word "no",
car rides, loud noises, kids and sleeping through the night. She was well socialized and made this transition to her
new home much easier.
The love of Brenda's dogs and puppies is exceptional. If you are thinking of getting a Cavalier King Charles, I highly
recommend Brenda. I am always happy to have Brenda's prospective doggie parents to call me for a reference.
I have added a beautiful tri puppy to my family.
Connie, Maggie, Jenny and Lucy
6-13-2012
"Lil' Miss Charlotte"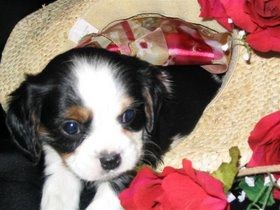 When looking for a puppy, I wanted to find someone who was trustworthy and who had a genuine love for the breed. I was unable to find a cavalier in my area and took to the internet. I was very weary of purchasing a puppy online but all my doubts vanished after my first conversation with Brenda. Immediately I was able to tell that she loved her dogs, was selective in future parents for her puppies, and was very knowledgeable about the breed. I also found it extremely comforting to purchase a puppy from a employee of a Vet. Brenda promptly responded to any emails or phone calls that I made with questions about my future pup. She provided weekly pictures and updates of my Charlotte and sent a package prior to her arrival containing everything that I needed to know about puppies, food, and toys. Charlotte's shipping was handled with the care and she arrived as a happy, healthy, and well tempered puppy. Brenda is still readily available for me to contact with any questions that I have and loves to hear how her puppies are doing. I have already recommended Brenda to friends who are looking for a breeder and would recommended her to you without any reservations!

Nicole
"Little Miss Bijou"
'I am so happy to have found Brenda in my search for a Cavalier puppy. I am from Calgary, Alberta, Canada and I had almost given up hope in finding a puppy that met my desires. I decided to expand my web search and I am so glad that I did! Brenda has been so friendly, her dogs are beautiful, and she obviously loves and cares for them very much. I like the fact that she only has a few dogs and because she works for a veterinarian she is very knowledgeable and understands the importance of hereditary health. She was able to answer all of my questions and was so helpful in arranging to fly our puppy to a location where we were able to pick her up. Our little girl Bijou is so full of life and very clever, she is catching on remarkably fast! My only regret is that I was not able to meet Brenda in person. Thank you so much for our puppy, for answering our many questions, and for the great bag of gifts that you sent us. Our entire family is enjoying her so much.'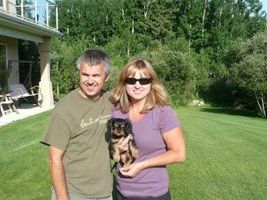 Janelle & Gerry,

7/23/09
"Sweet Lucy"
When my husband and I decided to purchase a Cavalier King Charles Spaniel we were very excited. However the hard part was finding a reliable and trustworthy breeder. We began searching the internet for breeder listings. We live in Idaho, and we were hoping to find a breeder somewhat local. However, after weeks of looking, the closest breeders we could find were in Utah or Arizona. We were willing to make the drive, but we had not been impressed by the breeders we found. One day I happened to run into Brenda's website. She was a breeder from Meridian, ID! We looked at her site and emailed her right away. She responded quickly and we knew that she was the right breeder.
We purchased our little Lucy from Brenda in April. She has been the best puppy. She is so loving and is so much fun to play with. We had an amazing experience with Brenda throughout the entire waiting period. She would always send us weekly updates of our baby until we came and picked her up. My husband and I made a trip to Meridian when Lucy was just two weeks old and Brenda made us feel right at home! We spent several hours at her house getting to know her and her family. She was more than willing to let us come and get to know her, as well as see our new addition.
I would recommend Brenda to anyone interested in a Cavalier. She cares so much about the breed and takes such good care of her dogs and puppies! We never had to worry about Lucy because we knew that she was always in good hands. If you are looking for a breeder who is trustworthy, kind, dedicated, and professional then Brenda is your breeder!
Thank you Brenda! We appreciate everything!
-Kallie and Trey Oler……and Lucy too!
"Little Bentley"
Bentley is such precious baby. He's is just that, my baby. He is SO sweet and lovey. He is now more snuggly than Buffet(our other Cavalier) and we love him so much!!

Brandy

Denham Springs, Louisiana

"Handsome Gibson"

I had been looking for just the right Cavalier puppy for quite a while, when I met Brenda, and then visited her web site. Afterwards, I made an appointment to look at the new puppies and was very impressed with the care and attention that she gives to her home, family and pets. I immediately noticed how her dogs are a big part of her family life, much loved and socialized. Brenda was helpful answering all of my questions, and extremely knowledgeable about the breed and care of Cavaliers. I consider myself on the "picky" side when it comes to choosing what I consider to be a new family member, and she helped me make just the right choice! We love our "little guy" and feel fortunate that he came from a loving home with beautiful parents! After I made my choice, she updated me with cute pictures/email every week so I could see how he was growing. I had such a great experience purchasing a puppy from Brenda and feel like I've also gained a friend I can keep in touch with. I highly recommend her to anyone looking for a quality Cavalier. She really cares about each of her puppies, and it shows. Gibson is such a happy, smart, little dog and fits right in with our family. He loves sitting on laps while we watch T.V., going for rides, and has staked out his designated spot in my husband's coat when we go out and about. He loves to be our "best buddy" and makes it his business to know about everything going on in the house and everyone in it! We look forward to keeping Brenda updated as he grows.
Tamie and Ron
December 29, 2008


Sweet Samuel Darling Sage
Dear Brenda:
Thank you for doing such a wonderful job at breeding your dogs Hope and Noah. Give yourself a pat on the back because you deserve it….thanks to the love and professionalism you have given in taking care of the two puppies, Samuel, and Sage we purchased from you this Christmas, our two grandchildren are the happiest kids on the block. You can sleep good knowing you are doing a wonderful job making so many people happy. You told me this was your passion and I would have to say that we can tell by how happy our two new puppies are that this is your calling. You are a big part of why our two grandchildren will now get to experience how wonderful it is to have someone else to love and take care. They are learning responsibilities and what's wonderful is they are enjoying the responsibilities. It has been 5 days now since our grandchildren have had the two puppies and our oldest grandson Sam who is 10 years old has hardly played at all with his play station, yes! That is a miracle in it's self.
Our granddaughter Athena is 6 years old and she too has a passion for animals. She loves to watch the animal channel on TV. She prayed ever day for the past month to God asking Him that if it was His will could she get a puppy for Christmas. If you could have only seen her face the morning of Christmas, she was so und asleep when I brought your little, Sage, into her bedroom. As soon as I placed little Sage on her bed Sage ran to Athena and licked her right on the face, it was only seconds when Athena's eyes opened up so big, she knew that lick had to be from a puppy and right away she knew her prayers were answered….what a joy!
Thank you for all you do and all you are continuing on doing. The two dogs are precious and we can't help but love them. They listen well, they sit and they love to be loved. What more can one ask for? You have done a fabulous job!
Not only did you provide us with two wonderful puppies but you were very helpful and knowledgeable about the breed you are raising. You also provided us with extra materials so we too could know mor e about the dog's needs and their training.
The gift bags that came with the dogs were wonderful, they had their own toys they had played with since they were born, and they had their own baby blankets with their mothers scent on them. All these special things you did made it so much easier on us and on the new puppy's initial move away from their first home.

We love you Brenda!
We would recommend your puppies to anyone and we will see you again.


Cindy, Sam, Frances, Sammy, and Athena
Meridian, Idaho

"Lil' Jack"
Hi Brenda, I just wanted to send a quick message to let you know how much we love our new puppy, Jack. He has settled into our home and family as if he has been here from the beginning. He is very social and loving. This shows how much he was loved and cared for while growing in your home. My daughters are so happy to have him and he loves them as much as they love him. Our vet said he is very healthy and she was pleased with his temperament, not to mention she thought he was so adorable.
Thank you for all the pictures while we waited for our Jack to come home to us and for all the support you have given us after he arrived. It is very easy to see that he was raised as part of your family and not as a "Kennel" or "Farm" dog. We are so pleased with our Jack and we all love him very much.
Thank you for bringing such great joy and love into our home. I would not hesitate to recommend you to my family and friends. You are a wonderful breeder. We will probably be returning for another puppy soon.
Thank you again,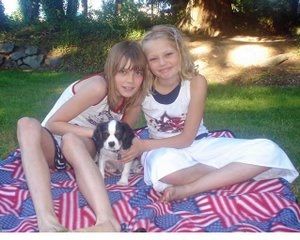 Kim and Family, Sammamish, Wa.
"Little RubyAnne"
RubyAnne was like an early Christmas present. She became a part of our family on 12-1-2007. She is a beautiful ruby Cavalier, who has truly blessed Earl and I. She has also been a great companion to our other Cavalier, Cody. We really have appreciated everything that Brenda has done for us. Whenever we have questions regarding her care, training, feeding, etc., Brenda always has wonderful suggestions and really has helped guide us through the whole process of raising a puppy. She sent pictures every week of our puppy to update us. We really looked forward to that and enjoyed seeing how much she grew from week to week. Because we live in the same town, we were also able to personally go and see RubyAnne as she grew and the wonderful environment she grew up in. We found it to be a very loving home. Brenda is truly a caring, loving breeder. It seems to be her passion raising Cavaliers. I recommended Brenda to one of my friends, who also purchased a Cavalier puppy from her. We highly recommend her as a breeder.

Earl and Carolyn Sailor
"Pretty Lil' Stella"

Hi Brenda, Stella has quite the personality. She drags that green blanket you mailed to us all over the house like a two year old baby. It is so funny! She even goes and takes it out of her kennel if we put it back in... It is the greatest thing to watch! Makes me laugh. We love her.
She is a great dog.. Very smart and very funny! She defiinetly thinks she runs the show.. It is hilarious! Thanks for everything.. You have been so great.. If we ever get another Cavalier we are getting it from you!!

Krista, Nebraska
"Lil' Buddy"


Since we were rookies at getting a puppy through a breeder, we were leery, and were looking for two things (1). A trustworthy breeder with integrity that was treating the puppies right and had high standards for not only their care, but in what homes they were placed. (2). Make the whole process simple. Very quickly we found that Brenda far exceeded our expectations for both. We got regular updates on our puppy

until he was old enough to come to us; Brenda totally took care of his travel and made sure everything was going right; and he arrived as promised, loved, and with a goodie bag. It has been several months and she still enjoys getting updated pictures & stories and is very happy to answer training and any other questions. "This breeder comes with our highest recommendation." Kevin & Maureen
"Little MiaBella"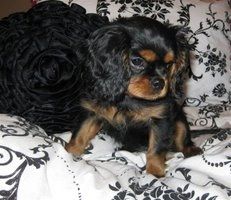 After months of researching a reputable cavalier breeder, finding Brenda was a true blessing! From our very first phone call I knew she had the best interest in her own Cavaliers as well as each new litter. From the beginning I was nervous about finding someone from the internet, but Brenda was professional and very helpful every step of the way. She kept in constant communication and answered every question I had with no problem.
Once Mia Bella was born, I received weekly pictures, updates on her progress....just more details than I could have ever imagined. Finally, when it was time to pick her up, Brenda took the time with us to go over all the little necessary items we needed to know and even sent us home with a wonderful bag full of goodies! Brenda made it so easy and I can't say enough of what a truly nice person she is. I would recommend her to anyone looking for this wonderful breed. -joanna fasanella
Couldn't resist another!
Darling Chloe
All of my life I have had dogs and when I went to college I felt a distinct void that could only be filled by a furry companion. I knew that I had to be selective of the breed and where the puppy came from. After a great many hours, I decided my lifestyle and personality fit best with a Cavalier, however having never owned a pure breed I was unsure where to start. I researched what to look for in a breeder and how to find them. I found Brenda in December along with several other breeders and after a single email I found most breeders extremely lacking in the qualities I was looking for; most were snobby and assumed I was an immature college student who was not ready for any responsibilities. But Brenda saw what I truly was, a dog lover, a caring person, and a good home for one of her puppies. We kept in contact and waited till our beautiful Chloe was born in June. Chloe is smart, and social she never fails to remind us about what we were missing in our home without her. Brenda was always there to answer questions via phone or email; she would let us come over when we visited Boise. It would be impossible to find a better, or more understanding breeder then Brenda. She seeks to find good homes and good people for her puppies. Jenny and Matt
"Sweet Samson"

"Samson has been the perfect addition to our family. From the moment we brought him home from the airport, he has been so close and attached to his big brother, Buddy, a 70 lb. Goldendoodle. They sleep together like a cinnamon bun. He also loves our kitten, Roxy, and they have great fun playing and also enjoy curling up together on our bed. Samson could not be more affectionate with us, and even our guests. Wherever you are, he is right there by your side. But what my husband and teenage son love best about Samson is his athletic ability. He keeps right up with Buddy and, believe it or not, actually out-swims him! Samson will literally swim around for hours at a time on the lake. He truly is the perfect combination of cuddly-lap dog and sporty dog!
Brenda and Connie (Samson's dad's owner) could not have been more informative, professional, and sweet. Indeed, I consider them new friends. Brenda spent hours on the phone with me before I flew to Idaho to get him. Samson has been very healthy and was well-loved by her family before becoming a part of ours. And Brenda also showered Samson with gifs to bring to our home, and not only sent photo updates regularly, but also surprized us with a handmade, personalized photo album/scrap book of all the photos of Samson growing up before we got him!
We highly recommend Brenda and her lovely dogs! :)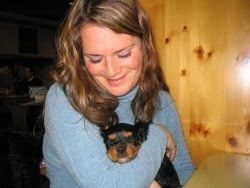 Darlene, Oliver & Jamie Jensen (and Buddy, Samson, and Roxy too!)
Handsome "Diache"

Brenda,
Everything went perfectly! It was so great and she was extremely surprised all thanks to you :-)
He is the cutest little guy ever and is so sweet. We can't believe how well he does with his crate he definitely knows that it's his place to sleep.
Thank you for all of the work that you have done to make Alison, Diache and I happy.



Thanks Again,
Jeff