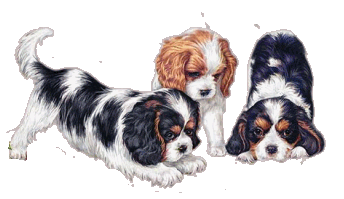 Sample only
Heart 2 Heart Cavaliers

Bill of sale and Health Guarantee
Bill of sale and Health Guarantee
All Cavaliers bred and sold by Heart 2 Heart Cavaliers are guaranteed to be healthy at the time of sale. For Purpose of this agreement, once the puppy leaves the sellers premises, it is under buyer's control. Notice of any problems with said puppy must be received within 72 hours or this guarantee is null and void.

I.) All our puppies have had a comprehensive examination done by a licensed veterinarian. They will have had the appropriate vaccines for their age, and wormed.
Please be advised that until your puppy has had its full set of vaccinations it is susceptible to certain illnesses, and therefore should be kept out of areas where other dogs and other animals have been. This would include parks, pet stores, and even your neighbor's yards. While at the vet, keep your puppy on your lap or in a crate, away from other animals, and off the floor where sick animals have been. When your veterinarian tells you the vaccines are complete, you can begin to show off your new family member.
II.) There are no known problems with our bloodlines, and it is unlikely that you will experience any problems with your new puppy. Nevertheless, we would encourage all new owners to keep us informed of any problems that occur with your Cavalier throughout its lifetime. We very much like to stay in touch with our new owners. We would love to see pictures of your puppy as he/she grows.
III). If at any time during the lifetime of your Cavalier, should you find that you are no longer able to care for your dog or give it the quality of care it deserves, you must first advise us so that we can either take the dog back or give you assistance in finding it a new home. This applies regardless of the age of the Cavalier. Please do not give any Cavalier away or send it to a shelter. Once you receive your puppy it is up to you, the buyer, to provide a safe, healthy environment which includes a nutritional diet, exercise, veterinary care, professional dental cleanings as needed, time and love. Seller has the right to take back any puppy if the buyer is not providing the puppy with the best of care. Please educate yourself before adopting a puppy, seller cannot guarantee the ability to house train the puppy, remember this is a baby, and as such should be given love, care, and attention. Puppy proof your home to prevent chewing accidents and provide chew toys for the appropriate chewing needs of the puppy. We recommend that you purchase a book on this breed before acquiring the puppy to help prepare your with any questions or issues you might have with training. I will provide you with many helpful training materials to get you started. Puppies are not stuffed animals and require training, if your not up to the time and dedication that it takes, please don't adopt a puppy.
IV.) Seller assumes no responsibility for the care or protection of puppy after it leaves our premises. We also have no responsibility for medical expenses incurred, Landlords disapproval, family allergy to animal, disagreement of family members, and other events beyond our control. There is no guarantee to the adult size or if he/she will be of show quality.
V.) AKC Registration Papers: My puppies are sold on limited registration, spay/neuter contract. The purpose of this agreement is that I want my puppies to go to loving pet homes, where they are loved and adored for life. There are many health benefits of spaying a female prior to her first heat, greatly reducing mammary cancer, not dealing with the mess of heat cycles, or temperament issues. In addition, neutering males eliminates any bad behaviors that may develop from an intact male such as marking, temperament issues, or escaping from your home. As a responsible breeder I am looking for homes that are not wanting to breed a dog for the wrong reasons, breeding dogs that shouldn't be bred, or mixing this breed with another breed. I want to preserve this amazing breed, and for it to remain true to what a Cavalier King Charles Spaniel is suppose to be. All puppies sold on Limited registration will receive their AKC papers as soon as proof of spay/neuter has been received from your veterinarian. Spay/neuter is usually around 6-10 months of age, so it is encouraged you mail out proof of spay/neuter immediately after. There is an additional fee from AKC if registration papers are mailed out after the puppy is 1 year of age. All spay and neuter costs are the buyers responsibility. Please remember, owning a pet requires time,dedication, and financial obligation for their care. Please consider wisely if you are ready for the responsibility required, prior to making the commitment.

VI.) Cavaliers are an indoor dog and thoroughly enjoy the company of their family. They should never live outdoors.
VII). Cavaliers are like potato chips, one isn't enough. If you decide in the future to add another Cavalier to your family, we would love to be apart of adding an additional Cavalier to your family!

Forms of Payment:
A non-refundable deposit of $500 is required to hold a puppy for you. This can be sent by personal check that will be cashed right away to hold said puppy. The deposit will be refunded only if we are unable to fill your request. With this deposit, we will hold your puppy until is it time for the puppy to leave our home (usually when the puppy is 9-10 weeks of age). If you have not completed the purchase price prior to puppy leaving or made other arrangements with us by that time, you will lose your deposit. Puppy orders are filled in the order the deposits come in. If we do not have enough puppies in the litter to your order, your money will be refunded or you can decide to wait til next litter. Please understand that these dogs are in very high demand. If you should change your mind about adopting a puppy after you have sent in your deposit, be advised that we will not be able to refund your money. When you come to pick up your puppy, the full price of the puppy(minus the deposit) will need to be paid before you can take your puppy home. This payment should be in cash or through paypal. Paypal payments may add an additional fee that is the buyers responsibility.

Shipping:
We really prefer not to ship our puppies. If you are not local and want to purchase a puppy from me it is up to the buyer to arrange air travel to pick the puppy up from me. I will gladly meet you at the airport for flying the puppy home with you. All puppies require and exam and health certificate prior to flying, the cost for the flight, exam, and health certificate, and kennel are the responsibility of the buyer. Puppies must fly in the cabin with the buyer.

Health Guarantee:
You must have your puppy examined by a licensed Veterinarian within 72 hours after receiving the puppy and have your vet fill out the report card. Return report card to us immediately, a return envelope has been sent with you for your convenience. Notice of any problems with said puppy must be received within 72 hours. Your puppy has a 2 year health guarantee against congenital defects which includes heart murmurs that are considered "congenital," lethal murmurs. This does not include "innocent" puppy murmurs that go away as the puppy grows. This guarantee also includes anything "lethal" for a period of 2 years from the date of birth. Lethal is described as a defect causing death or medically indicated euthanasia. Heart 2 Heart Cavaliers has the right to get a second opinion by the vet of their choice.
Anything that is considered non-lethal has no guarantee for any period of time. This includes luxating patellas (slipped kneecaps), hernias,under or over bite, un-descending testicles, or retained puppy teeth. All such issues are very common in puppies and small breeds and are not considered lethal. Sellers health guarantee does not cover physical abnormalities caused by injury, neglect, poor diet, illness, or poisoning.
We recommend that you consult your veterinarian early about the prevention of heartworm, and other internal parasites in your area. Heart 2 Heart Cavaliers recommend a monthly heartworm/parasite prevention for the life of your Cavalier. It is expected that the Buyer will be willing to have yearly exams and vaccinations required by your veterinarian. It is also expected that a professional dental cleaning will be needed as your Cavalier becomes an adult, this sometimes is needed annually and should be done once your veterinarian is recommending this. It is very important to keep a Cavaliers teeth clean and healthy. Brushing the teeth on a regular basis is recommended. All veterinary expenses are the responsibility of the buyer. We have done regular vet exams on all of our adult Cavaliers, including heart and eye certification and monthly parasite prevention. Feed a good quality dog food for optimum health, such as Science Diet, Royal Canin, or Purina Pro Plan. These foods have been well researched with food studies and food trials to provide optimum health and proper balance. There are many food "fad diets" on the market, not all foods are created equal. Please keep your Cavalier at a healthy weight, this is crucial for their heart and overall health. Seller will consider replacement puppy only if the conditions detailed in the Health Guarantee are met. If the puppy has not visited the veterinarian as agreed and the examination report card filled out and returned, within the 72 hour time frame, this health guarantee will be VOID. Buyer will be given a replacement puppy of comparable value when one is available. No Refunds.
This is a legal and binding contract under the state of Idaho. Any legal matters regarding this contract shall be executed in a court of law in Ada County, Idaho. All parties have read and fully agree to the terms and conditions of this contract and therefore sign below stating their agreement.
____________________________________ ___________________
BUYER DATE
____________________________________ ____________________
SELLER DATE
I want to thank you for entrusting us to give you a "lifetime" friend. You are considered family to us now. Please stay in contact and let us know how we can continue to help make this the best experience every. Don't forget to give your Cavalier a hug and kiss from me daily!
From our heart to yours,

Heart 2 Heart Cavaliers